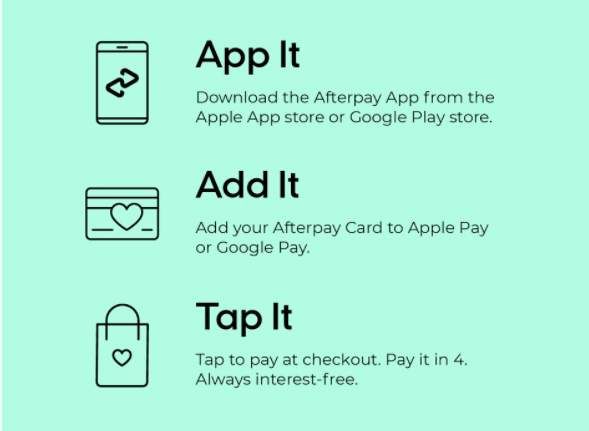 Afterpay FAQ's (Scroll down for download links)
So, what's Afterpay?
Shop now. Pay over 6 weeks. Never pay interest. We are pioneers of Buy Now, Pay Later, but at Afterpay, we just call it a better way to pay. In-store, Afterpay is a digital wallet payment option, powered by our app. Afterpay allows your customer to split their purchase into 4 payments.
How does Afterpay work?
When customers choose Afterpay at checkout the customer enters into an agreement with Afterpay. Afterpay settles the full sale at time of purchase with the merchant. The customer pays Afterpay 25% at time of purchase, and 25% every 2 weeks, across 4 payments and 6 weeks.
Does Afterpay charge interest or fees?
Afterpay does not charge interest on a customer's purchase. There are also no late fees when payments are made on time!If a customer does miss a payment, they may be charged a late fee. They should read their Afterpay Installment Agreement for full terms and to learn more.
Where can customers use Afterpay to make a purchase in-store?
Participating stores are featured in the Afterpay App and on the Afterpay website in the Now in Stores section. Stay tuned - more stores are coming soon
Who can sign up for Afterpay?
It's important to introduce and explain Afterpay equally to all customers who express interest. To sign up for Afterpay, certain eligibility requirements apply, customers must:
• Be at least 18 years old (19 in Alabama or if a ward of the state in Nebraska).
Provide a valid phone number and email address.
• Be a US resident who resides in one of the 50 states or the District of Columbia.
Additional requirements can be found on www.afterpay.com/terms
Is it easy to sign up? How quickly can customers get approved?
It's easy for customers to create an account and free to sign up for Afterpay! To use Afterpay in-store, customers must have the Afterpay App and complete a one-time set-up, where they connect their preferred Visa, MasterCard (credit /debit) or American Express. if your customer is eligible to use Afterpay, they will know their pre-approved spend estimate, right then & there. Purchase approval is not guaranteed. If a customer has questions about purchase approval or any other account questions direct them to the Afterpay Installment Agreement, help.afterpay.com, or customer support channels.